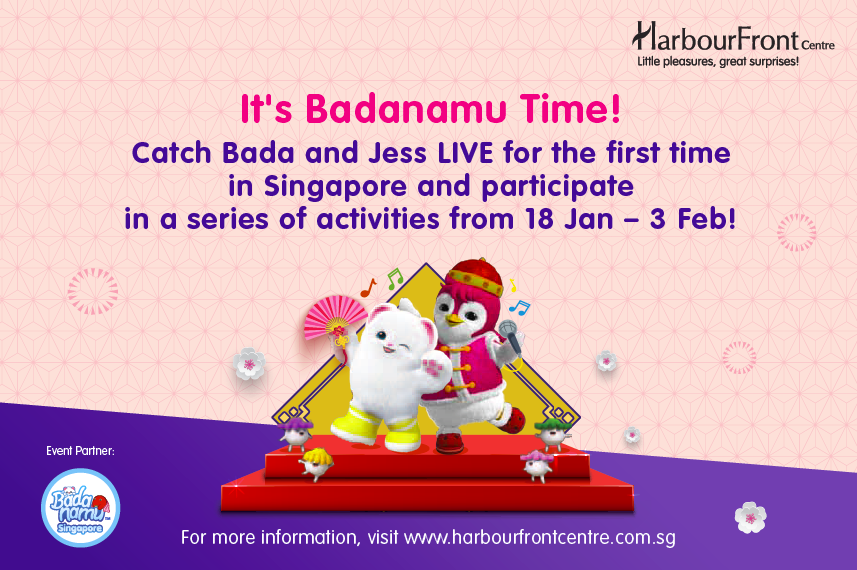 Badanamu Performances, Screenings and Activities
18 January - 28 January 2019
Badanamu Performances, Activities and Screenings
Central Atrium
(18 January – 3 February 2019)

Performances and Meet & Greet*
(Weeeknds only)
1pm and 7pm

Catch Bada and Jess in their debut appearance in Singapore! Singalong to all-time favourite hits like Ponytail and Hop, Pop, Stop and It's Badanamu Time. Each performance will be followed by a Meet and Greet session.

Screenings and Meet & Greet*
(Weeeknds only)
5pm
Viewers can look forward to an adventure with Bada and his fellow brave cadets as they battle against the forces of darkness to keep the world of Badanamu safe! Three episodes will be aired across three weekends.
Minimum spending applies for Meet & Greet sessions. Limited slots available. Meet & Greet passes are available at the Customer Service Counter on Level 1.
Badanamu-themed activities
Central Atrium
(18 January – 3 February 2019)
Daily from 12pm – 8pm, closed during show times and screenings

$38 (max 2 same-day receipts)

Meet and Greet session
Colouring Wall
The Lunar New Year is all about bright colours and vibrancy. Celebrate it by bringing your favourite Badanamu characters to life at HFC's six metre Badanamu-themed Colouring Wall!

$58 (max 2-same day receipts)

Meet & Greet Session
Interactive Wall
Let the little ones immerse themselves in the world of Badanamu. Through life-sized touch screens, children can embark on a learning adventure through song, memory games, guided reading, puzzles and more.
Craft Activity
Cherry blossoms signify spring and new beginnings. For those who love a good draft activity, DIY your own cherry blossom tree with an array of craft materials and take home your masterpiece!
Badanamu Karaoke Booths
For budding singer or karaoke enthusiats, parents and children can sing their favourite Badanamu tunes together at the Badanamu Karaoke Booths. Available daily but only free on weekends, parents can even record their child's performance and take home their recording for keeping.
Activities are subject to change without prior notice.