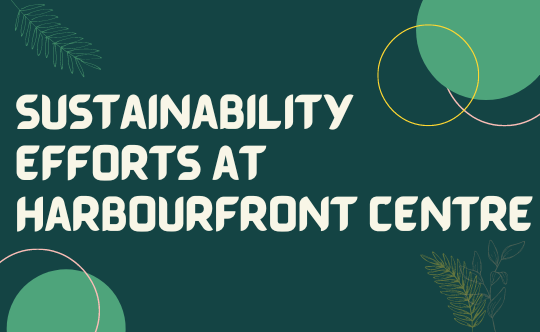 Sustainability Efforts at HarbourFront Centre
13 June - 31 December 2022
Join us in making a difference and protect our environment by supporting these initiatives from HarbourFront Centre and its retailers.
Mall-wide Initiatives:
Recycle your e-waste and receive vouchers from us!
Find out more here.

Enjoy attractive discounts and deals when you support the environment.
Check out our sustainability themed 'Wednesdays Shiok Deals!' here.
DON DON DONKI, #03-23/38
| | |
| --- | --- |
| | DON DON DONKI supports National Environment Agency (NEA)'s say YES to Waste Less campaign. Plastic bags are charged at $0.10 per transaction since 1 November 2021. |
Mothercare, #03-05/06/07
| | |
| --- | --- |
| | Mothercare is committed to pledging towards a zero-waste nation in plastic packaging reduction, incorporating sustainable packaging to bring-your-own-bag initiatives. Currently, efforts include charging for the use of paper bags ($0.20 each) and encouraging customers to donate used Mothercare fashion hangers for recycling efforts. Starting from 1 September 2022, a $0.20 charge will be imposed on the use of each plastic bag, motivating customers bring their own shopping bags. |
Taste Original (Organic Food), #03-57
| | |
| --- | --- |
| | Shoppers are encouraged to bring your own bag. You may also donate your used clean bags to the shop to recycle it. |
TRT, #02-103/106
| | |
| --- | --- |
| | TRT uses quality, recycled paper for their hangtags and carrier bags. They also encourage the upcycling of their garment bags through re-use. TRT's range of quality, natural woven fabrics is functionally durable and comfortable to our body. Natural fabrics, unlike synthetics, are fully biodegradable and renewable. They can also be easily repurposed without harming the environment. Apart from which, TRT is also working towards the process of sourcing new fabrics spun from reconstituted yarns, which are better for the environment. |
Watsons, #01-56/57
| | |
| --- | --- |
| | Watsons Singapore introduced its Bring Your Own Bag (BYOB) sustainability campaign since December 2020 with the aim of reducing plastic bags usage in its retail operations. During the BYOB days from Monday to Wednesday, plastic bags are charged at $0.10 for every transaction upon customers' request. 100% of the proceeds collected from the plastic bags charge are donated to support World Wide Fund for Nature's (WWF-Singapore) conservation efforts, including critical projects related to reducing plastic in nature. |
Fight the Deadliest Monster with Pedro @ HFC

1 Oct - 31 Oct 2022

Save to Calendar 2022/10/01 2022/10/31 Singapore/Asia Fight the Deadliest Monster with Pedro @ HFC Join Pedro on a mission this October in HarbourFro ... Harbour Front Centre, 1 Maritime Square Singapore 099253

Read more

Recycle Your E-waste & Receive Vouchers!

13 Jun - 31 Dec 2022

Save to Calendar 2022/06/13 2022/12/31 Singapore/Asia Recycle Your E-waste & Receive Vouchers! .detail-page .fullwidth { width: 100%; } ... Harbour Front Centre, 1 Maritime Square Singapore 099253

Read more